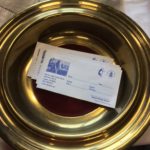 As part of our visioning and strategic planning, a goal of Northern Light United Church is to sustain a stable church into the future through facility maintenance and improvement, staffing decisions, and stewardship of our resources.
Donate Online
Giving online is easy. You can make a one-time donation or a recurring donation.
Giving with Vanco
Giving with Paypal
One-time donations

Designate your donation to a particular ministry by so noting in the Special Instructions section.

Recurring donations

Requires a free PayPal account subscription
PayPal, one of the most reputable handlers of financial transactions on the Web, processes all donations.
One-Time Donation
Please click on the "Donate" button below to make your One-Time Donation. You will be taken to a PayPal page to enter the amount of your donation and to confirm payment options. Thank you for your donation.
Recurring Donation
Contribute to the Elevator Fund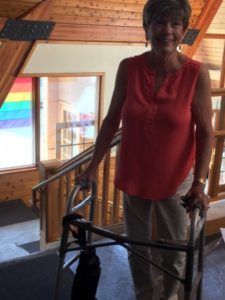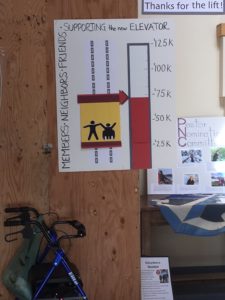 Please consider a contribution to the elevator fund to help ensure NLUC is accessible to all.
August 4, 2018
Dear Friend,
Northern Light United Church–a house of hope, hospitality and healing, accessible to all, is a gathering place, a meeting locale for a diverse array of groups, a preschool, a concert venue, the home of Mudrooms, and a site for summer meal preparation for children. The Church hosts many activities and events that make Juneau a vibrant and inspiring community with a focus on the well-being of our community. We are glad you are here.
In order to assure continued access, we need your help. After 30 years of service, the building elevator needs replacement. The cab is no longer level, the hydraulic system leaks, and stoppage between floors is increasingly common. The replacement will address these problems and no more manual doors and gates! The new elevator doors will open with the push of a button.
Elevators are expensive and replacing this one is especially costly because extensive renovation is required to fit the new elevator into the existing space–the only place an elevator can go to provide access to all levels of the building. The cost of the project is $250,000. The church is committed to funding half of this from it reserves, we are fundraising internally and externally for the other half; we have already raised over $72,000.
We are grateful for the support we have received so far, but we still have a way to go. Will you help us raise that additional $53,000 we need to install our elevator?
We think of Northern Light as a church that is also a Community Center. A neighbor tells us they think of us as a community center that is also a church! Either way, we want everyone to be able to participate in all that goes on here. Will you help make that happen by contributing to the elevator project? No gift is too large or small.
Checks may be make payable to Northern Light United Church–note "elevator" in the memo line. Mail or drop off at the church office (up the stairs), or you can give online. Your gift will be gratefully receiving any time, but we are hoping to secure donations or pledges by August 31.
Working together, we can ensure that Northern Light church will continue to serve our community as an inviting, hospitable place accessible for all. Thank you for your partnership.
Sincerely,
Pastor Phil Campbell and Moderator Freda Westman
Mail
Please send checks to:
Northern Light United Church
400 W 11th Street
Juneau, Alaska 99801